Our destination is South East Missouri and in the heart of the most active seismic zone east of the Rocky Mountains. Since the 1970's more than 4,000 earthquakes have been detected in this area. It's also the site of the 1811 earthquake estimated to be a magnitude 8.6 on the Richter scale and one of the largest ever recorded in North America.
The New Madrid Fault  (New Madrid, MO)
My 11 year old daughter wanted to ride along with me on this trip so I had to hitch up the trailer to accommodate the added gear for two riders.
The plan was to ride down highway 13 into Southwest MO and Collins, MO. Then take highway 54 to J highway into Stockton, MO where we picked up 39 highway to Mount Vernon, MO to spend the night at my parents house before turning eastward.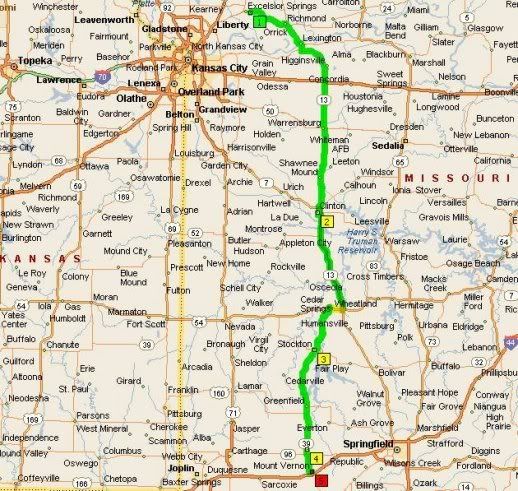 We stopped by the Missouri Conservation Department in Clinton, MO for a quick break before continuing our journey south. I had never been here before but it had a small pond with picnic tables located around it which made for a great place to take a break from riding.
Our next stop was for fuel in Collins, MO before turning west on highway 54. I checked our fuel milage at this point and I was getting 48.9 mpg which I thought was pretty remarkable for the Nighthawk traveling two up and pulling a loaded trailer.
Turning back south off of 54 highway onto J highway to catch 39 highway in Stockton, MO.  J highway has always been a favorite riding road for me because it has it all, curves, hills, and great scenery. If you are ever in this area be sure to check this road out and I'm sure you won't be disappointed.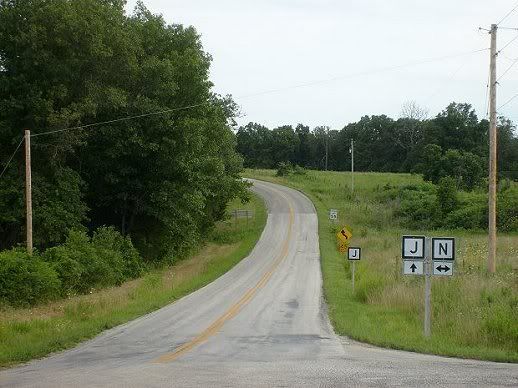 More of J highway heading south.....
In Greenfield, MO (located on 39 highway) we found a Dade County Historical Marker and stopped to have a look. It told the history of several nearby towns and a little about Dade County itself. Dade County was organized in 1841 and named after Major Francis L Dade who was killed in the Florida War with the Seminoles in 1835.
(my daughter seemed to be interested in this marker)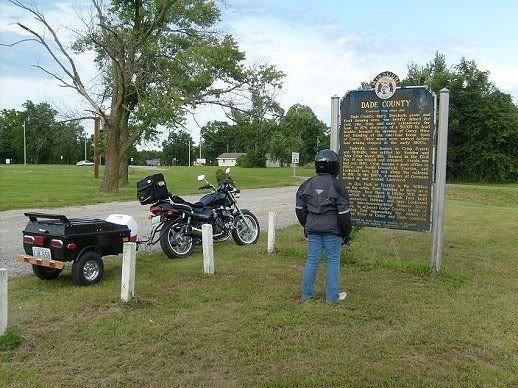 Near Greenfield we crossed a small creek and stopped to take a few photos.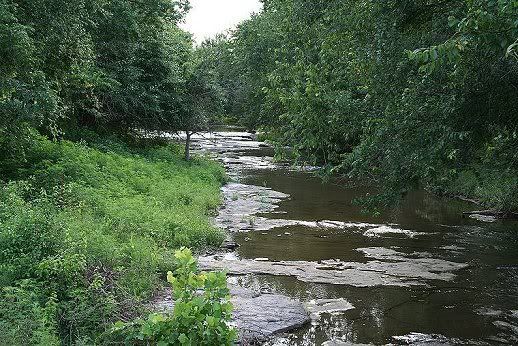 We made another stop in Miller, MO (which is my home town) and we are now within 6 miles of my moms house in Mount Vernon, MO to mark the end of our first day of travel.
My daughter has never ridden with me on a long journey before so I was suprised at how well she was holding up at this point after almost 200 miles.
It's 5:30 AM in Mount Vernon, MO and we are preparing for our second day of travel that will take us east towards the Portageville, MO KOA where we will stay for the next two nights.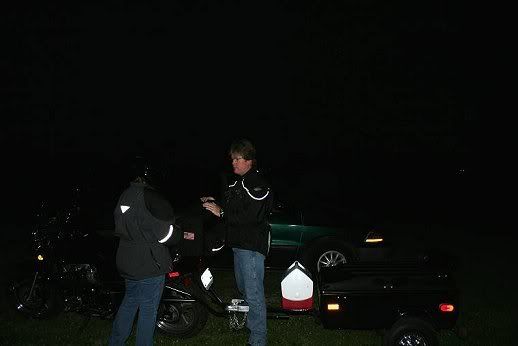 Day two of our journey took us east on I-44 to the James River Freeway around Springfield, MO and continuing east on 60 highway. Then we took I-55 south to the Hayti/Portageville, MO KOA where we spent the next two nights.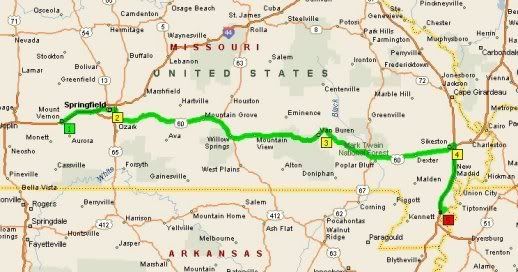 About an hour east of Springfield, MO we pulled off 60 highway for a quick rest stop. My daughter wanted to go check out a small bluff next to the road so I told her she could. We pass these bluffs all the time when we are down this way in the car but she has never gotten this close to one before so she was curious to have a look.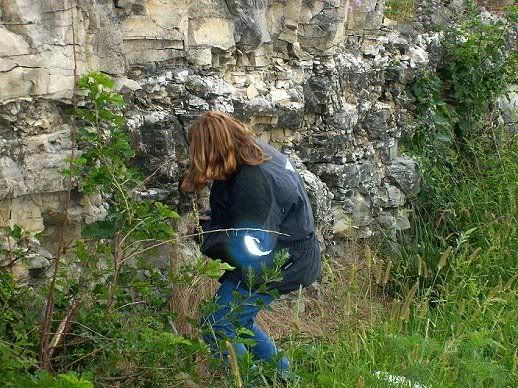 There were thunder storms behind us and we chased a band of clear skies for the next 100 miles or so as we traveled east on 60 highway. We only had to put on the rain gear once for about 20 minutes during the whole trip. What rain we did hit was just slightly more than a sprinkle so we were very lucky not to have ever really gotten wet on this whole trip.
60 highway turned out to be a nice scenic ride across the state of Missouri and I was glad we chose this route.
Getting close to Van Buren, MO my daughter is starting to show signs of being uncomfortable on the hard seat of the Nighthawk. I had her sitting on a folded up towel which helped get her this far but even this has its limits.
It was also getting about lunch time so we pulled into Big Springs State Park where we opened the cooler and made a few sandwiches. This is the first time that I had ever been in this part of Missouri and the scenery here in Big Springs was beautiful and we are now starting to get into earthquake country.
The road getting to the park has some of the steepest grades I think I have ever had the Nighthawk on so I had to stay in the lower gears most of the time just so I could stay off the brakes. I still had to use the brakes more than I wanted to though so I alternated front and back braking so as not to over heat them.
Lots of old looking buildings here at Big Springs State Park.
An Ozark Johnboat, these 24 to 30 foot boats were introduced into the Ozarks during the start of the logging industry in the 1890's.
More old buildings....
And this is why they call it Big Spring!.........
This huge spring is awsome!..... up to 840 million gallons of water a day pours out of this huge hole in the ground.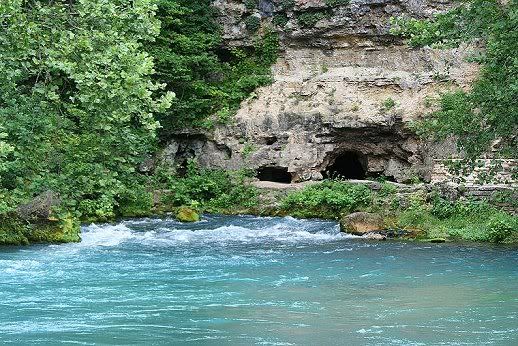 There are also small caves in the bluff behind the spring to explore. Im not sure how far back they go but this turn is as far as I cared to venture with out a flashlight.
More spring photos......
Back on highway 60 heading east we stopped about 40 miles west of Sikeston, MO for anther rest stop. The gravel roads down here are creek gravel and not the lime chat gravel roads we have back in the KansasCity, MO area.
At this point I have one tired little girl on my hands and the stops are now getting more frequent (every 10 or 15 miles). I'm now starting to wonder if I made the right decision in bringing my daughter with me on this trip. I did'nt tell her but I'm already thinking I may have to call my wife to drive down here and get her. I could see she was tired and sore from all of this riding but she never really complained and she did'nt want to turn back.... I was very proud of her for not wanting to quit.
A few other problems cropped up on this trip as well. We pulled into a quick trip like store to refuel and my daughter noticed that the trailer lid was not closed all the way. I checked it and found the latch had broken on the inside. We were in luck though because the fuel station here had several bungi strap in stock so I purchased one and used it to tie the lid down.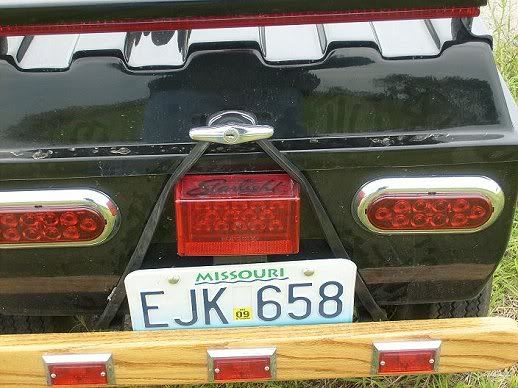 We finaly made it to the Hayti/Portageville, MO KOA and we were both pretty tired. We checked in and sat in the airconditioned cabin for a while. Then headed up to the KOA store for some ice cream and a swim in the pool.
This is Deborah Carnie our hostess at the Hayti/Portageville KOA. One of the services they offer at this KOA is pizza delivered to your campsite.
My daughter and I were not in the mood for sandwiches so we let Deborah bring us pizza for supper. She was also very nice and helped us come up with a few ideas for places to visit on the third day of our trip.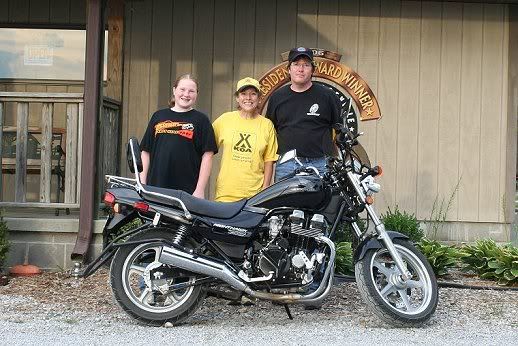 After we got to the KOA campsite I opened the trailer lid and found that my second cooler had been leaking. There was about a gallon of water in the bottom of the trailer. My stuff was in water proof bags but some of my daughters stuff got wet so we took advantage of the KOA's laundry facilitiy. A $1.25 later everything was warm and dry again. I drained the trailer and towel dried the inside and we were good to go.
This is Bob. He pulled in and setup camp next to us just before dark. He was on his way home to Florida from the Colorado area where he had done a four corners tour. He showed me a map of all the roads he had been on while in Colorado which he said was some awesome riding. We chatted for a while and he suggested that I get my daughter a pillow to sit on for the rest our trip. (hmmm.... now theres an idea)
We headed in to Caruthersville, MO the next morning and found one of the smallest Wal-Marts I had seen in a long time but it had everything we needed to make the rest of our trip more comfortable for my daughter on the back seat of the Nighthawk (a bed pillow and a bungi cord).
The pillow idea turned out to be a great one and my daughter was very comfortable for the rest of our trip. She was so comfortable in fact that she was now out riding me!
This is Hillbilly Touring for sure!
(we didnt really give a damn what it looked like as long as it worked)
Our next stop was New Madrid, MO were we found several interesting things to do and a lot of information about the 1811 earthquake that made this area a hell for the following two years after.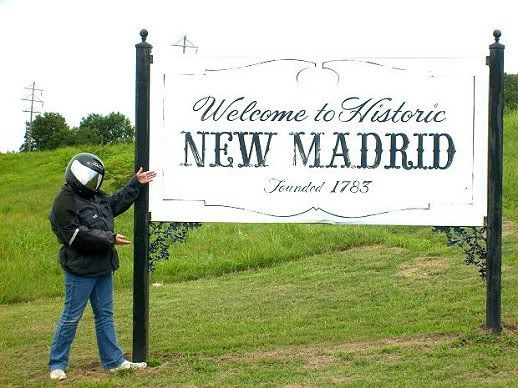 We visited the historic Hunter-Dawson mansion while we were in New Madrid, MO which has been said to be haunted.
On the record the state denies that this house is haunted. But once we were out of the office and starting our tour of the house we were told about things that have been mysteriously moved around in the house on occasion. We were also told of photos that have been taken in the house which have people in them that were not in the house at the time the photograph was taken.  I took lots of photos while we were in the house and didn't notice anything strange about any of them but if any of you notice anything in the following photographs please point it out.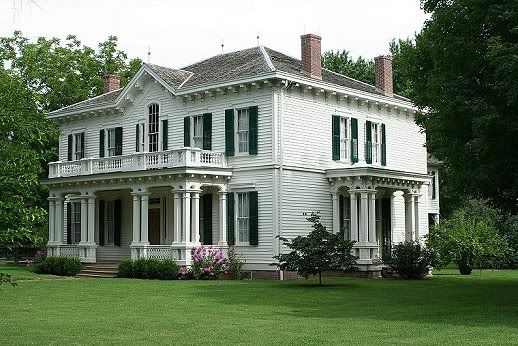 This 15 room mansion was built in 1860 by William and Amanda Hunter. William died of yellow fever just before the house was finished but Amanda Hunter lived here until she died in 1876.
After Amanda Hunters death in 1876 their youngest daughter Ella and her husband William Dawson occupied the home. This house was continually occupied by the Dawson's descendants until 1958.  The house was unoccupied for eight years after and during that time folks in the area looted the house of it furniture. Over the years the state regained most of the original furnishings so the house is about 85% back to its original lived in condition.
Photos I took of the inside of the Hunter-Dawson house...
The Hunter-Dawson house has 12 foot ceilings and was very hard to photograph. Next time I will take my 18mm lens.
The paintings in the house are all original and were done using an interesting technique called perspective painting.  What this means is that the subject in the painting is always looking at you no matter where you were standing in the room. This can be a little creepy, I started at one side of the room and the subject in the painting seemed to be watching me as I walked across the room to the other side.
Here's an example of what I mean:
I took this photo of a painting while standing on the left side of the room.
I took this photo of the painting while standing in the center of the room.
And I took this photo of the painting while standing on the right side of the room.
(kind of creepy eh?)
Even the beds were huge in the Hunter-Dawson house....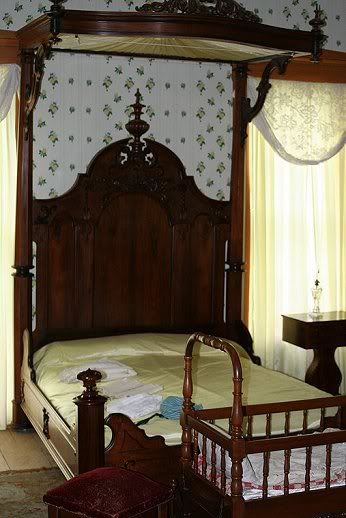 The house now has central air but the state of Missouri only added it to protect and help preserve the mansion's furnishings.
The Hunters owned 36 slaves that worked in the house and on the estate. One of the young girl slaves was a family favorite and this was her room in the house. As you can see there were no fine furnishings here.
Back out side near the back half of the house...
This is the original six hole privy located off the back side of the house....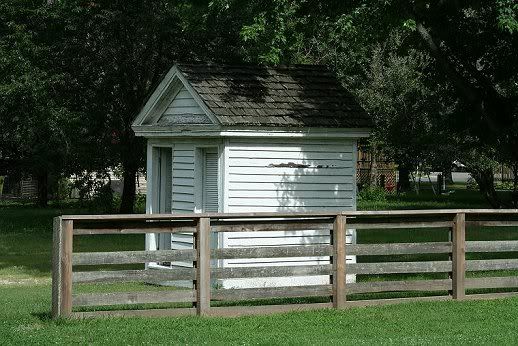 And this was our personal tour guide while we were on the Hunter-Dawson estate, Delois Ellis.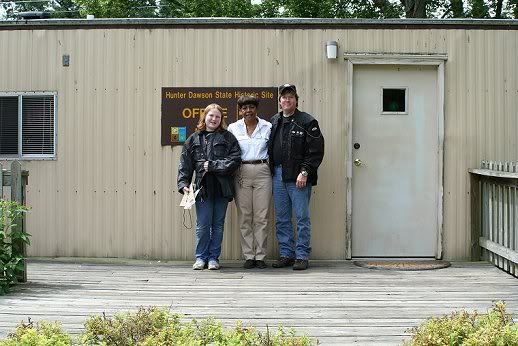 After leaving the Hunter-Dawson House we rode over to the edge of town. We walked up onto the top of levee that separated the town of New Madrid, MO from the mighty Mississippi River where we found this historical marker. The marker provided us with some interesting data about the New Madrid community.
The historical marker was actually at the start of a scenic river walk out from the levee towards the Mississippi River.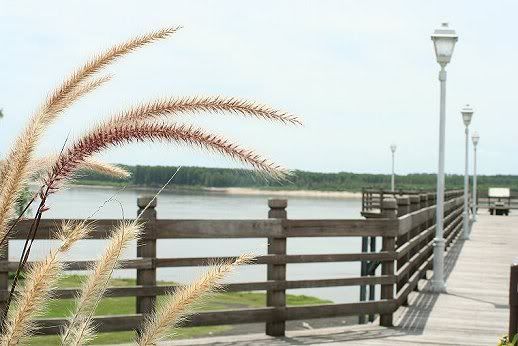 The view looking up river from the river walk...
After seeing the sand on the other side my daughter wanted to go over there and sit on the beach (as she called it). Its actually the closest thing she has ever seen to a beach in real life.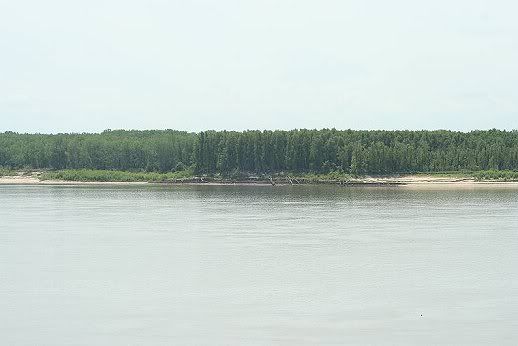 Looking back the other way from on top of the levee is downtown New Madrid, MO.
Notice all of the brick buildings? If (or more accuratly when) another 1811 earthquake strikes it would probably level this whole area since these buildings dont look like they are designed to handle much shaking.
From here we walked back down the levee and to the earthquake museum on the right......

The museum had a lot of information about the 1811 earthquake. It even had a few display experiments we could play around with that demonstrate how sand boils and ground saturation work. There were a lot of Civil War artifacts there too but as far as earthquakes were concerned we found it to be more of an information center than a museum.
We found an old seismograph at the museum that was interesting to look at but actually there were no seismographs here at the time of the 1811 earthquakes. There were also no trained scientists in this area either.
Scientists later went back and looked at the destruction and relied on eyewitness accounts of the disaster as their only source of data.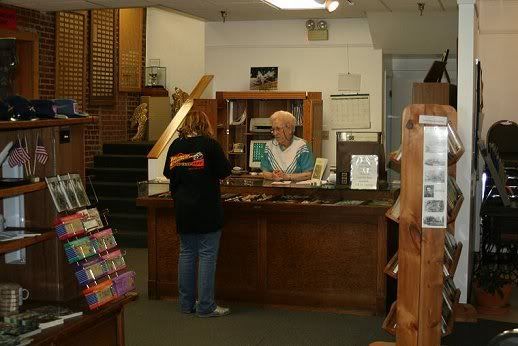 The New Madrid Fault passes directly under the Mississippi River in some places. During the earthquakes of 1811 eyewitnesses say the ground heaved up and divided the Mississippi River in two and for a while it actually ran backwards. There were other eyewitness accounts we read about while at the museum that told of boats being thrown from the water and onto the banks of the river. Folks in the area watched as the ground lifted and sank draining a nearby lake. They say the ground collapsed and sank until the treetops were level with the surrounding terrain.
The next stop for my daughter and I are these sunken lands to see if there is any visible evidence left from this cataclysmic event....
We were both starting to get a little hungry so before setting out in search of the sunken lands we rode back to our KOA campsite for a picnic lunch.
After lunch we rode back into New Madrid, MO and exited town on highway WW then onto hwy A. These back road highways were narrow and some times had no center stripe.
There were a lot of motorcycle hazards on these secondary highways. The pavement looked good but just around the corner there could be a series of potholes, sand, and sometimes gravel crossing the road. For this stretch of our journey my job was to watch the road and my daughters job was to watch the surrounding terrain for any irregularities that might be evidence left behind from the 1811 earthquakes.
Sand on pavement is a scary thing for a motorcycle rider and this is an example of what I mean. We would be traveling on fairly clean pavement and round a curve to see something like this: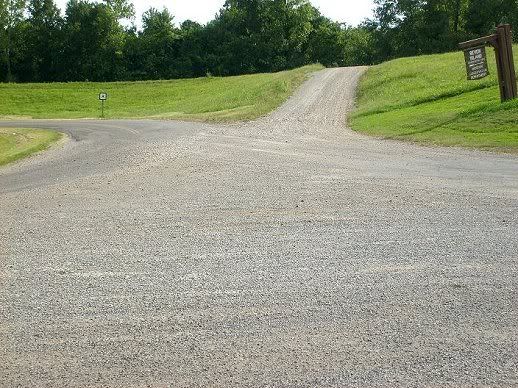 WW and A highway are nice scenic rides but there is nothing in the way of a town out here.
Mmmm... So, where the heck are we? I figured I better stop and check the map.
We stayed on "A" highway as it ran along side the river. We made a few turns and the road just stopped right at the edge of the river.
There was no bridge...
 We were actually at the Dorena-Hickman Ferry landing and were first in line to catch the ferry when it comes back.
20 minutes later here comes the ferry to pick us up.........
I had never had the motorcycle on a ferry before and was very suprised at how smooth the ride was.....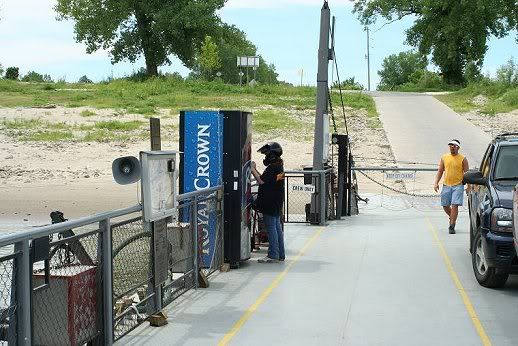 After departing the ferry we rode thru part of Kentucky. We were still in the Mississippi River bottoms so we saw a lot of agriculture here.
While riding down more of these narrow secondary highways I noticed this Coca-Cola sign in front of this old building. I thought it would make a nice photo so I had to stop...
We soon left Kentucky and entered Tennessee. The guy on the motorcycle coming down the highway stopped to see if we were alright. This happened every single time I pulled off the road to take photos. This is one of the cool things about motorcycle riders: It doesnt matter what type of bike you ride, they all seem willing to help one another while on the road. 
Then we ran accross this....
Just what we were looking for more information about the 1811 earthquake.
Looks like we may have found what we were looking for: The Sunken Lands. We know this is part of the sunken lands because this lake was created by the 1811 earthquake. A lot of this whole area was under water after the earthquake but it looks like most of the sunken area has dried up or had been drained except for the area here known as ReelFoot Lake.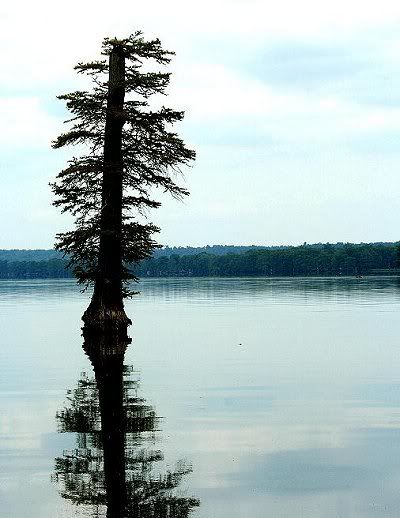 The only trees that survive in the water here at ReelFoot Lake are Bald Cypress trees. The root system of these trees form a ball near the surface of the water hence the name Bald Cypress. Some of the proof that these lands sank during the earthquake can be seen on the older trees (or so we learned). We learned that when the ground sank submerging part of the original cypress trees they actually grew a second root ball above the first at near water level just like the first.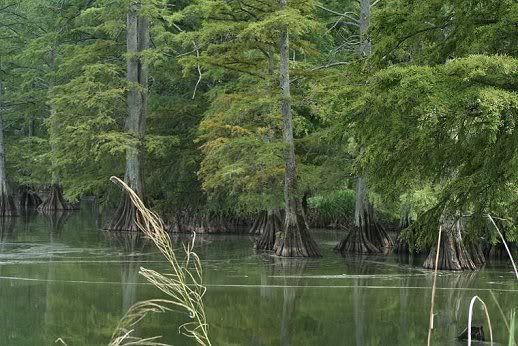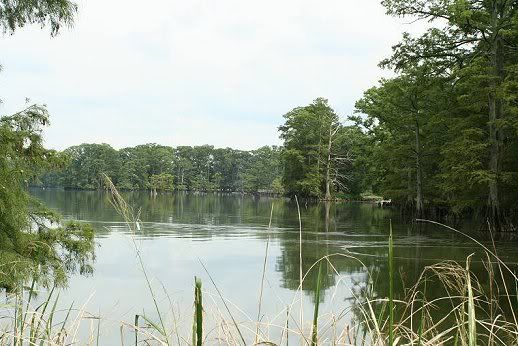 After exploring the ReelFoot lake area we made our way back to Missouri the same way we came. We passed fields of what I thought was wheat but then I thought it was a little late in the year for wheat to be starting. After a closer look I notices this stuff was being grown in several inches of water so I assume it was actually rice being grown. I didn't even know we grew rice in Missouri so, hmmm… we learned something else on this trip.
One thing I know about crops though is that they can show variations in the soil structure that they are being grown in. (I grew up on a farm and was a member of the Future Farmers of America when in high school)
During the 1811 earthquakes fishers (spelling?) began to form all over this area. Sand blew out of these cracks in the earth 100 feet high (sand geysers) and they belched foul smelling gases. There were also reports of strange lights emitting from under the ground. These lights are a result of the under ground rocks being compacted and squeezed and is known as a piezoelectric effect.
The folks living around here must have thought Armageddon was upon them.We passed this crop field near New Madrid, MO that was not uniform in color. It might be just wishful thinking but maybe these crops were planted over some of these sand geysers that have long since filled in. So, the color variations in these crops could be showing where the fertile soil is and where the unfertile sand geyser soil is. It could also be showing the different areas of the soil that have the ability to hold more or less water which could also be a clue as to the soil composition.
We made our way back to the Hayti/Portageville KOA just before dark where I took this sunset photo.
I woke early on our fourth day of travel and stepped outside the cabin to see a thick fog hovering over the cotton fields surrounding the area.  If you put your self back time a little just after the destruction that occurred in 1811 this would seem kind of eerie calm.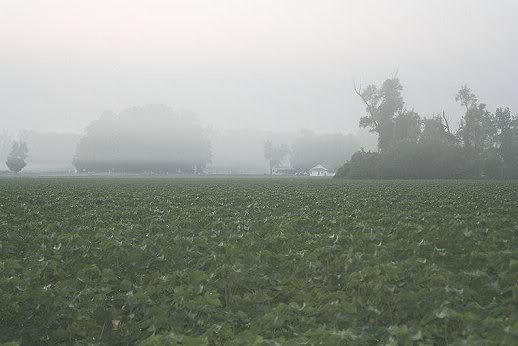 The ride back home to Excelsior Springs, MO was mostly uneventful. I meant to take hwy 63 thru Jefferson City, MO and get some photos of the state capital but I missed the turn and ended up going thru Springfield, MO and taking hwy 13 home.
We stopped for lunch in a small town just east of Springfield, MO. The sign on the highway said there was a tourist information center in town but all we found was this railroad car (no tourist info though).
Just to the right of the railroad car was a picnic table so we opened up the cooler and made a few sandwiches for lunch.
On highway 13 just north of Clinton, MO we found a couple of old buildings and a nice place to pull off the road to stretch our legs.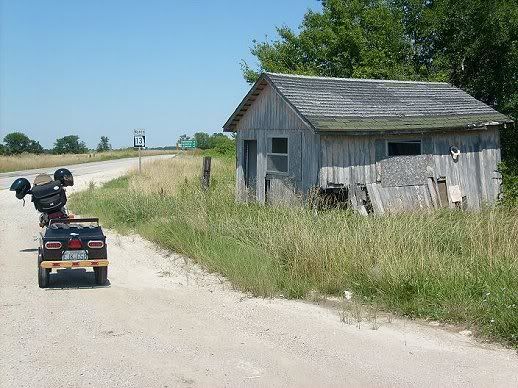 I had to run my daughter out of this building. She wanted to explore it but I was afraid she would get hurt in there. The ceiling was not in very good shape in this one.
We finally made it home in late afternoon. We had been gone for four days, traveled 1,331 miles on the motorcycle and spent a total of $240.24 on this trip. We should have spent a lot less but we bought a few souvenirs and after a while those unnecessary few dollars spent here and there start to really add up.
We had a great time though!
THE END