The plan was to meet up with a friend and ride secondary asphalt today but I ended up on gravel instead. My wife was riding with me so we were two up on a 500 pound CB750 Nighthawk for my first time on gravel (except for the SLAP Rally).
The wife and I headed over to Kearney, MO to meet up with "Pilot" at the La Fuente Mexican Restaurant.
I was also testing out a new digital camera for the ride today. I ditched my budget 35mm for a SamSung S630 with ASR (Advanced Shake Reduction). While playing around with it I found out that the new camera takes pretty decent movies too.
Pilot missed the turn into the shopping center where the restaurant is located but quickly turned his KLR around and caught up with us in the parking lot.
 After lunch we decided to ride backroad pavement from Kearney, MO. The wife and I were leading as we made our way  towards Excelsior Springs, MO to catch O hwy towards Orrick, MO.
So far I like the new camera but its going to take a few road trips to get things working the way I want it to. I have a long strap attached to my wrist with the camera on the other end. The problem with the strap is that it keeps getting wrapped around my arm and tangling up... so, I need to come up with another setup.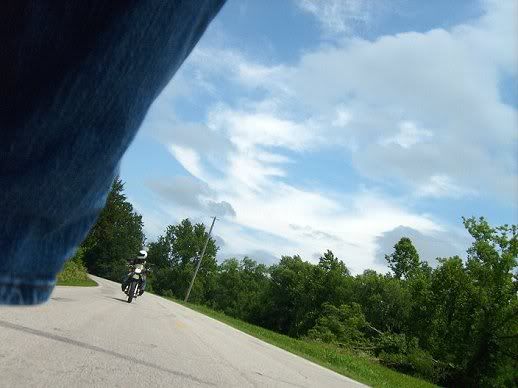 Long camera strap, bad idea (it shows up in this photo).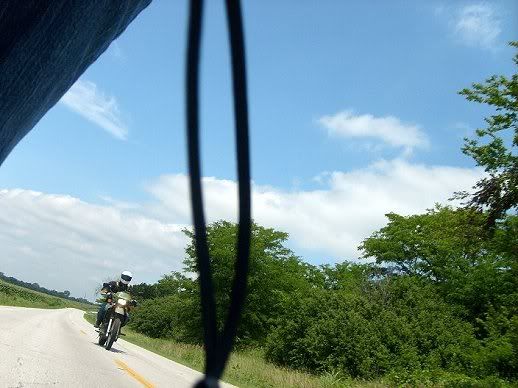 After making our way thru Excelsior Springs, MO and Orick, MO we were riding down T hwy when I saw a small bridge on a gravel road that we had pasted. We turned around and headed down the gravel road to see where it would lead us too.
From here on Pilot had taken over the lead since he had better GPS maps and obviously this is the kind of riding he likes to do best.
Notice in this photo Pilot is no where to be seen. He took off like his tail was on fire, his rear tire spitting gravel as he disapeared up ahead of us.
We finally caught up with Pilot at an intersection where there was a sign warning the road was closed up ahead. We were curious and so far this gravel was pretty easy to ride on since there were hard packed areas to each side that other vehicles had cleared most of the gravel from.... so, we decided to continue on down the closed road just for fun.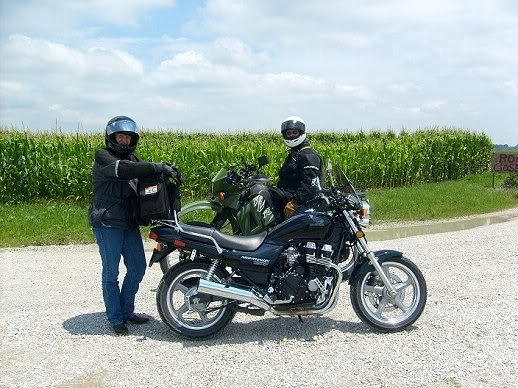 We never really found out why the road had been closed for sure. Must have been some high water in the area at one time but we did'nt see any and the road seemed to be open now so we continued on.
We rode past corn field after corn field on this road. Notice once again Pilot is missing from the photo, I think he was having a blast!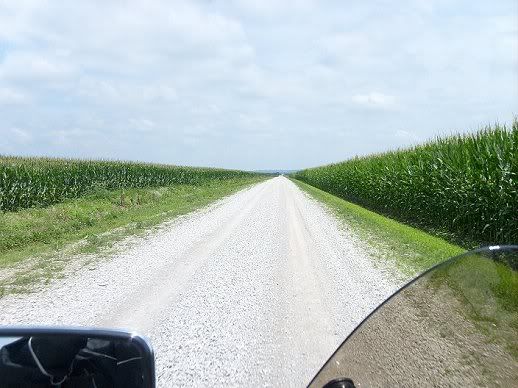 We were actually having a lot of fun too but had to travel along at a much slower pace. I found out though, that if you travel along to slowly that the bike becomes a little unstable on gravel. The best pace for us seemed to be about 30 to 35 mph.
I found a cool spot to pull over and snap a few photos. Thats another thing I am learning about traveling on gravel, its just as scenic if not more so and its safer to stop next to the road (or in it) away from traffic to take photos.
This was some strange looking grass. It was really course and stalky like bamboo and made for a pretty decent photo. Pilot later told us it was called Horse Tail or something like that.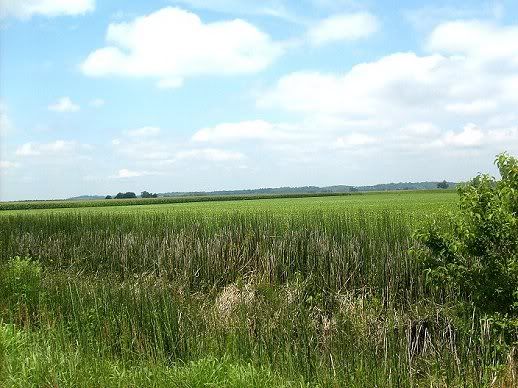 The other side of the road looking back. I was trying to be creative with this photo.
Here comes Pilot back down the road to see what the heck was taking us so long to catch up.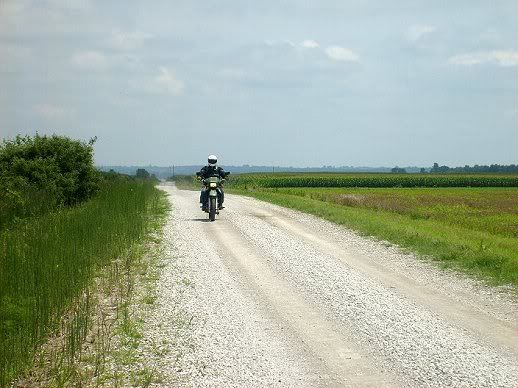 Time to get back on the bike and move on.
This stretch of gravel ended on pavement and back towards Orrick, MO.
More asphalt and curves.....
Finaly caught back up to Pilot.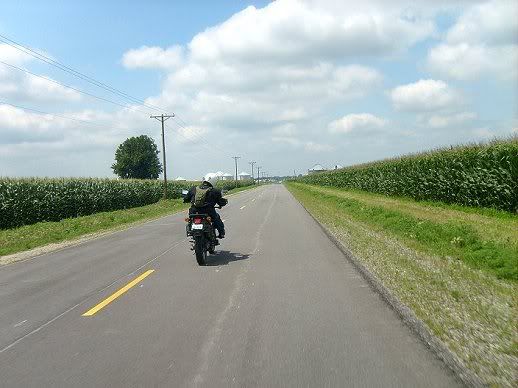 Passed over a railroad yard on old hwy 13 going thru Henrietta, MO.  The new hwy 13 by-passes all of this.
Once we made it back to Orick, MO we headed north on more gravel but this time without the corn fields. This road was a little more scenic in some places since there were more hills in this area but I passed a lot of those photo ops up.
You can barely see Pilot on the KLR way up ahead once again leaving us in his dust. Next year Im going to try and buy a second bike more suited for this type of riding... I can't wait!
Rode past a interesting old house sitting in a grove of trees.
Another photo stop near some railroad tracks.
These rail road tracks mark the end of this days ride. It was fun spending a little time on the gravel and taking photos and its something I will be doing more of in the future.
THE END!