I had heard last year that there was a WW II submarine landlocked in Muskogee, OK near the Arkansas River. So, I set out Friday June 8th to go searching for it.
Normally when I head south from the KC, MO area I hit US 71 or Hwy 13 for a fast ride to the Ozarks. But this time I have decided to take the trip into South Missouri using secondary roads almost exclusively. I have been traveling on my bike since I purchased it new back in 2002 but it wasn't until I found the Adventure Rider website that I learned to appreciate exploring secondary asphalt with sometimes a little gravel thrown in.
I started my journey from Excelsior Springs, MO by way of 10 hwy, O hwy, T hwy, and then H hwy into Henrietta, MO. This short route to hwy 13 is about as scenic as it gets in this part my home area with lots of curves and hills which run along the Missouri river bluffs.
Just before entering Henrietta, MO I saw this old shed sitting in the middle of a field of crops. I stopped and took a few photos and as I was about to leave a pickup stopped in the road next to me. The man driving the truck appeared to be in his upper 30's or so asked me if I was alright. I told him yes and that I was traveling to Oklahoma and was taking a few scenic photos along the way. The man in the truck then replied "You sure picked the wrong place to stop, why are you taking pictures of my meth lab anyway?" It was funny after I realized he was just kidding.
One of the neat things about traveling this way is the interesting and sometimes strange folks you meet along the way.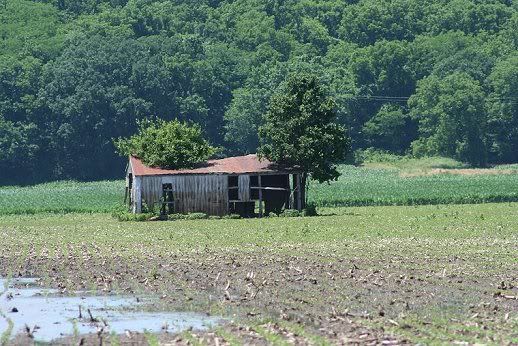 I don't know much about Henrietta, MO other than it has a population of less than 500 people and sits along side of a railroad track. There is a large track switching area nearby so this must just be another old rail road town. There seemed to be several old depots in town that had been converted to one business type or another.
This is an old building that sits in town and looks like it could have been an old depot at one time.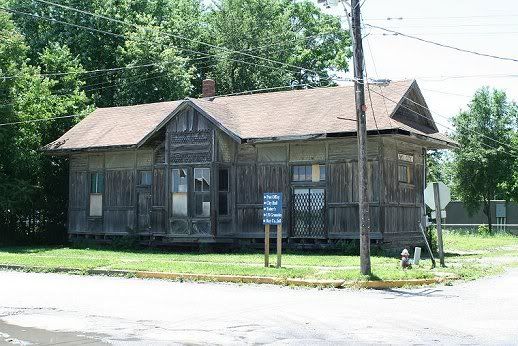 Leaving Henrietta, MO I jumped on hwy 13 for a quick ride over the Missouri river and across I-70. Turned right on U hwy for several miles then turned south on hwy 131. I then kept going south on B hwy thru Quick City, MO where I picked up K hwy in Urich, MO to a little place called Germantown, MO.
During my ride down hwy 131 I found a nice secluded gravel road over a small creek where I took a break. I grabbed some water and the camera from my pack and snapped a few photos of the area. These back country highways are nice because there always seems to be some sort of out of the way gravel road to turn down for a break.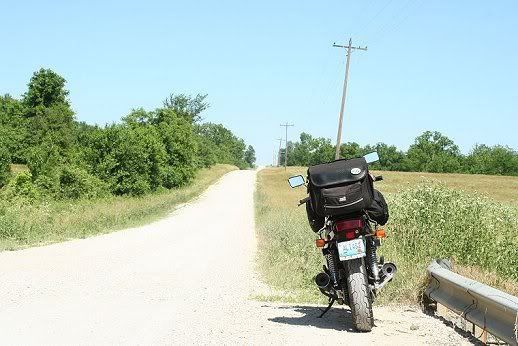 After getting back onto K hwy south I passed thru Germantown, MO. The post office in this town was removed in 1883 and Germantown was considered dead as most of its population moved to nearby Montrose, MO.
There really was not much interesting about this little town which seemed to consist now of only a few farm houses and a church.
The church is what caught my eye because it looked a bit out of place in this rural setting.
It was a large brick structure and a very nicely built church!
The next leg of my journey took me down 54 hwy onto south 13 hwy for a quick ride thru Osceola, MO. Then hwy 82 west thru Roscoe, MO where I backtracked east a few miles on hwy 54 and picked up 39 hwy south to Mount Vernon, MO where I spent the night.
While on 39 hwy, I crossed an arm of Stockton Lake called Sons Creek. I did a ride report about a month or so ago where "FlashStromer" and I visited Sons Creek and we had a lot of fun riding thru the water over the road. For those that didn't see it here is a refresher photo from this area on that ride.
This FlashStromer blasting his way thru the water!
The water is up even more at Sons Creek now. I stopped just across the bridge and took this photo of the area we were riding in last month. The line of trees going across the center of the photo marks the road we were riding thru the water on.
I don't think even FlashStromer could get to that road now!
Miller, MO happens to be my home town (where I grew up anyway) and 39 hwy goes right thru it. It was getting late in the afternoon and I was more than a little hungry. So, I stopped at the Suzy Q for a cheese burger and fries.
It's been 25 years since I have eaten at this place but the food is still pretty good.
My parents live in Mount Vernon, MO so the over night stay there helped keep the cost of my trip down and it was good to see them again.
In the morning its on too Oklahoma!
After a good nights rest I woke early and started studying my maps. This is also a new way for me to travel since all of my previous traveling was done strictly by GPS only. FlashStromer has gotten me interested in using the DeLORME Atlas and Gazetteer Topo maps. These maps have a really detailed road listing and with the built in GPS grid for use with a GPS unit, there is no way you could get lost.
http://shop.delorme.com/OA_HTML/DELi...minisite=10020
I was running out of time at this point so my back road exploring would have to wait another day. The fastest way for me to cover a lot of miles now was to slab it on the interstate for a while. So I headed across I-44 thru the Will Rogers Turnpike and exited at Big Cabin, OK (exit 283). From there I rode 69 hwy all the way into Muskogee, OK where I found the War Memorial Park.
While I was on the I-44 Turnpike I ran across what had to be the coolest McDonalds I had ever seen. The arches spanned the width of the interstate and the McDonalds was built as a bridge beneath the arches.
I missed getting a photo on the way down because at 80mph I came upon it to fast. By the time I realized what it was there was no time to get the camera out of my pocket. So, I took a few photos on the way back. You can see it here in this self portrait I took as I passed by.
I exited at Big Cabin and paid the $2.75 toll then onto 69 hwy south for the final leg of my journey. 69 hwy passed thru several small towns and had plenty of gravel access roads to pull off onto for a break now and then. I pulled off 69 hwy to here about 15 miles out north of Muskogee, OK for a water break and took a few more photos.
It just occurred to me that I didn't take any food photos that are the tradition on Adventure Rider. I stopped at a Sonic in Chouteau, OK on the way back for lunch and took this photo though. I know it's a poor excuse for a food photo but it's all I have.
I finally made it to Muskogee, OK and stopped in at a visitor's information center for direction to the War Memorial Park. The man working there was very friendly and gave me a brochure and a hand drawn map to my destination. He also saw all of the pins I had on my Jacket from previous travels and figured I needed a few more so he hands me about half a dozen "Okie from Muskogee" pins and sends me on my way.
There were two police cars sitting outside investigating a possible stolen car that had been abandoned in the Information Center's parking lot during the night.
I made it to the War Memorial Park and sure enough there was a WW II submarine here with a lot of other cool military equipment. The SS-310 "Batfish" was put to sea on May 5th, 1943. It sank 14 ships and 3 enemy submarines while in service. The ship and its crew also earned 10 Bronze Stars, 4 Silver medals, 1 Navy Cross, and 9 Battle Stars on it s Asiatic Pacific area Service Medal.
I think this ship was quite a find and worth the long trip down to Muskogee, OK for a visit. It's too bad it couldn't be sitting in the water though. Lying in a field just doesn't seem fitting for such an impressive ship.
On a few of these photos I have done an overlay with a small photo from when it was in service.
(as a disclaimer though, the small black and white photos belong to the museum)
The one thing that was nice about the ship being out of water was the fact that you can walk all the way around it. You get to see parts of the submarine that you normally wouldn't be able too. These are the outer torpedo doors on the aft (rear) section of the ship. The SS-310 had 6 forward torpedo tubes and 4 aft.
Here is an outside view of the conning tower (or bridge section).
Externally the SS-310 was well armed with a 5 inch deck gun, and 20mm, 40mm Anti Aircraft guns mounted on the bridge.
This is the forward section of the SS-310 and gives a good view of the bow plane and anchor. You can also see the cutouts for three of the six forward to torpedo exits.
The entry to the submarine is a doorway located on the forward deck (pictured below). The exit to the ship is located on the aft deck.
The first part of the ship you enter after walking down a narrow set of steps is the forward torpedo room. There are six torpedo tubes in the forward part of the ship of which two are pictured below.
The rooms of the submarine are very small and narrow so I couldn't get a full room photo even with the 35mm lens I was using (next time I do a trip like this I will take my 20mm for wider shots).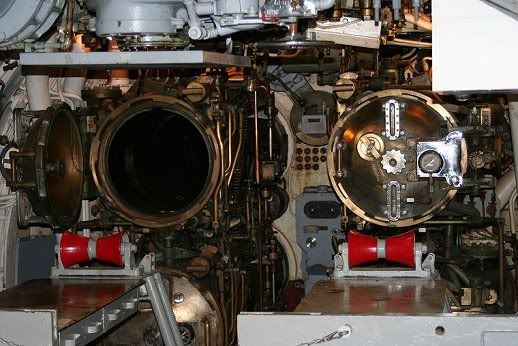 There were bunks in the forward torpedo room. I found it interesting that some of the crew actually slept over and under explosive ordinance. But then again I guess there was probably no real safe place to be on a submarine if under attack.
This is the other side of the same forward torpedo room.
After leaving the forward torpedo room and continuing to explore the ship I found this. It looks to be a very compact toilet room (or what ever you would like to call it).
Does'nt look very comfortable to me.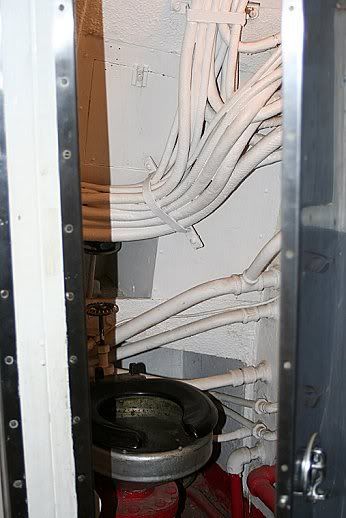 This is the shower. Again, I couldn't get a full view of it because of the tight area it was in so this is the best I could do.
Moving on…. This is a photo of one of the narrow passages as you go thru the ship. I was wearing my motorcycle jacket and it was hard for me to get around in here without snagging it on stuff.  I think the best apparel for submariners moving around in such tight quarters would be as little as possible.
This is a look into a dinning area. It was very small and I presume it is an officers dinning room since it was not attached to the kitchen.
I'm not sure what this room is but it looked like a small office with a typewriter and another piece of equipment off to the right that looked like an adding machine.
Here is a photo of the other machine to the right that I mentioned above. Looks like an adding machine but I not sure.
Another narrow passage in the ship.
This looks like it might be a control console for the submarines vents.
This was some sort of DC electrical switch console. It seems everything in this submarine runs on DC current.  One of the guys in the museum told me that this ship took over 200 batteries to keep it operating (there will be a photo of one of the batteries later).
This area is where the air and water pressure is monitored for the ballast tanks. There are a set of control valves just below the gauges.
More controls for the ships air system. The small grey box (has a black button in the center) in upper left part of the photo is a call button for the pump room. It looks like there are a lot of handles missing in this area.
This is another narrow passage with a doorway that leads to the SS-310's Radio Room if I remember correctly. The doorways in this ship are very small and narrow. I don't know what the Navy regs are (if any) but I would bet there was a height and weight restriction for these sailors.
As I went further into the ship I kept hearing voices that sounded like radio chatter, was this place haunted?
Nope, when I peaked into the radio room I noticed there was a man talking. It seems that there is a HAM radio station being used from the ships radio room.
I thought this was very cool!
This is the crews dinning area. The kitchen is behind the window opening and was extremely small. My wife's kitchen is much larger than the one on this ship. So, I can't imagine what it must have been like to prepare food for a whole crew in this small area.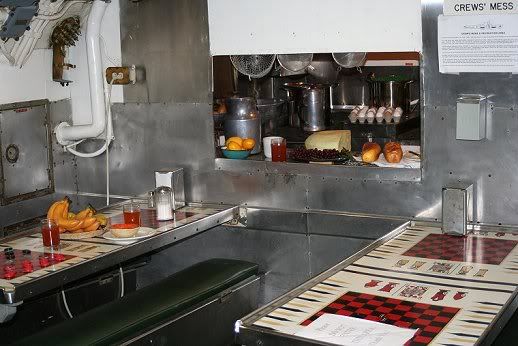 Continuing on I walked up to a ladder that started at the floor and went up into the ceiling. There was wire stretched over the opening so I couldn't climb up. But, here is a view up the ladder. I'm pretty sure the hatch at the top of the ladder opens onto the deck of the ship but I could be wrong. It might even lead into the conning tower somewhere so it's a mystery that I won't be solving today. Besides, the conning tower is off-limits on this submarine for some reason.
We are moving to the Aft section of the ship now and here there are more sleeping quarters.
Another view of the same sleeping area.
Now we are in the engine room. There are two diesel engines in this room, One on the left and one on the right.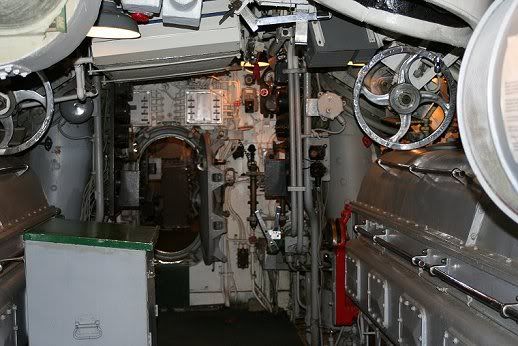 The engines are nine cylinder super charged diesels manufactured by Fairbanks-Morse. Each engine is rated at about 1,600 HP.
I wouldn't mind having one of those in a pickup truck! … LOL
This is a view of the lower section of the engine housing.
This appears to be another DC current monitoring station. The generators that these engines turned put out 415 DC volts.
Here's one I missed earlier. I don't know what this station is but if any of you do, please tell me.
This is the Aft torpedo room. There are four tubes located here and this photo is of the top two. It also appears that the crew slept in here as well.
Here is a close-up of one of the torpedo tube doors.
Now we are on the deck looking from the back of the ship to the front.  As you can see there is still some work being done on the ship.
There were a lot of other interesting things to look at while at the War Memorial Park besides the SS-310 Batfish. This is the business end of a three inch artillery gun. The projectile weighed in at 13 pounds and could be shot a distance of 14,590 yards from this gun.
I tried really hard to get one of these three inch artillery guns to fire but … No luck!
This is a 40mm Twin Artillery gun. The shells this gun fired weighed almost 2 pounds and had a ceiling of 22,800 feet. The only thing missing here are the Japanese planes and the Flak bursts! (maybe I have the wrong gun, I dont know but the shot looks good anyway).
This is a K-Gun Depth Charge These were loaded with 200 lbs to 600 lbs a secondary explosive known as Torpex which is 50% more powerful than TNT.
This is the inside of the museum. Lots of photos, newspaper articles, and artifacts of every kind in here.
This one caught my eye and a kind of eerie sad feeling came over me. Seeing some of this stuff almost makes it seem like you are there.
Very Powerful!....
Oh yea, and before I forget, I told you all I would post a photo of one of the 200 batteries the SS-310 used onboard, so here it is. There is a visitor's log book on the other side of it.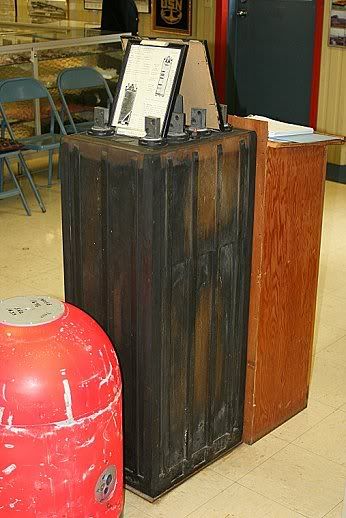 There was tons more to look at and I have and I lots more photos to remember this trip by but I have dragged this report out long enough. So we will say goodbye to the museum and start the long journey home to Excelsior Springs, MO.
 The 313 mile journey home took me back up 69 hwy onto I-44 then 71 hwy towards home.
I really enjoyed this trip and hope to do more like it in the future, maybe even a return visit to the Lexington (CV-16) in Texas some day.
THE END!