Heated grips make a nice addition to a motorcycle that helps beat the cold on those chilly spring or fall rides.  For this project I used the Koso Heated Grips from CBXMan.com because they work well and they don't take a lot of power to operate. The total cost of this project was around $60.
After receiving my new heated grips in the mail I took them out of the package and made sure everything I needed was included.
I stripped off the old grips and cleaned the surface of each side with a good degreaser.  The late model Nighthawk 750 doesn't come with threaded bar ends from the factory. I drilled and tapped mine for another project I'm working on.
Since my bar ends are threaded I used a small knife to cut away the center of each of the new Koso grips.  If you don't have threaded bar ends this step is not necessary.
These grips must be installed with epoxy glue that can withstand a little heat.  I spread a small amount of epoxy over each of the handle bar ends then slid the new grips into place.
They were a perfect fit which kind of surprised me because I had always had a tough time finding grips for this bike that fit correctly.
I positioned the electrical wire of each grip at a slightly downward angle and let them dry over night.
The controller mounting bracket that came with the Koso grips set things a little to tall for my taste. So, I fabricated a new bracket and painted it gloss black to match the rest of the bike.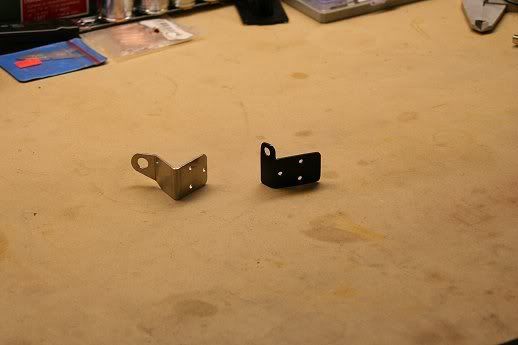 The next morning I added the custom bar ends that I made and finished wiring the system up to complete this project.
NOTE:    I did not go into the wiring process because its very simple and everyone has his or her own way of doing it.  I did however run my wires into the fuse block to the left of the battery so they would only have power when the ignition was turned on.
Here is a link to where you can buy the grips I used for this project:
These are great grips and I really love them!